A string trimmer is known by a variety of names across the world, the most popular ones being 'line trimmer', 'weed eater' and 'strimmer'. It is a power tool used in gardens and farms for weeding or cutting grass or unnecessary smaller plants that have overgrown around objects. You can remove plants on an irregular terrain as well. A string trimmer doesn't employ a blade to cut plants and grass. It works using a monofilament line which is quite flexible as well.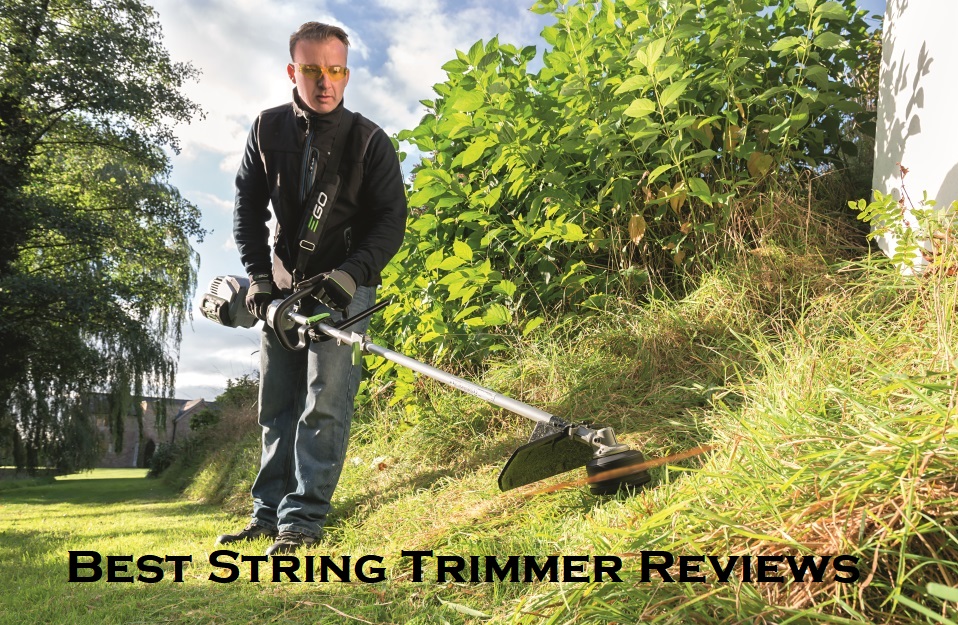 The tool in itself has a long handle attached with a cutting tip which has the monofilament line. This is sharp enough to cut most types of grass. The flexibility of the monofilament line makes it easy for you to navigate around irregular areas and cut wherever you want. The string trimmer works using a rotating cutting head containing the monofilament line.
Some of them can be adjusted; you can change up the angle of the rotating head to fit the area that you are trimming. You also have the option of fuel string trimmers which use an IC Engine in the machine which uses either gasoline or diesel as the fuel, or you can buy an electrical one which works with obviously, an electric motor.
Types of String Trimmers:
There are 4 types of string trimmers available in the market. The details on all these are given below:
1. Electric String Trimmers
These are simpler and easier to start.
They run on electric motors which are easier to start and switch off as well.
These have a noticeably small sound level, they create much less noise than the gas one, which should be kept in mind.
They are available in the cordless and corded variants.
The cordless ones are understandably easier to move around because there is no wire attached to it. They operate on 20 to 40 or 80 volt batteries, based on the power of the motor that you are using. As stated earlier, the power rating of the string trimmer that you choose should depend on how large your farm is and how long you are going to be using your string trimmer. These batteries can last from 30 minutes to a number of hours.
The corded string trimmers that you can get in the market are much lighter than the cordless ones you get. This is because of the lack of battery in the corded ones. You also do not have to charge it and it does not stop during work as it has a continuous power supply. It would be more difficult to work with this as corded string trimmers have a little flexibility with the amount of area they can cover. You need extension cords to expand the area that they can cover, which becomes a hassle at times.
2. Gas String Trimmers
Gas String trimmers are used to cover more areas and to cut more growth than just small weeds and grass. They are more powerful than electrical trimmers.
They are a little tougher to start up, as they use a pull-start to be able to crank the motor. You can also purchase a separate attachment which basically starts the machine for you at the push of a button and you do not have to use this cord.
They run for a longer time than electrical string trimmers as well, as they do not need to be charged and they run on petrol or diesel.
You do need to keep the motor properly fueled and maintained by lubrication and proper maintenance methods.
3. Walk-behind String Trimmer
These have wheels and a bar that you can use to drive it around like a cart, which is easier to maneuver than hand-held string trimmers.
They also have wider area coverage as the line that cuts is bigger than that of hand-held trimmers.
These are mostly gas powered and are easier to start because of its structure although it does have the pull start mechanism with the recoil spring.
It is used for tougher bushes and harder terrain, which is why the cutting line becomes worn out easily. You have to replace the lines regularly.
This Best String Trimmers Review is about the best string trimmers on the market, which have the best specifications and efficiency along with the best value for money.
Top 10 Best String Trimmer (weed wacker) Reviews:
1. GreenWorks 21212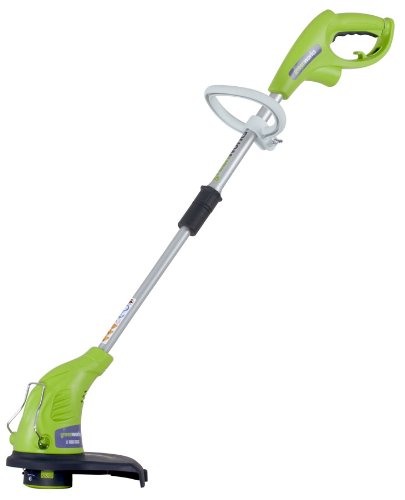 The GreenWorks 21212 is a more basic but versatile String trimmer which is also very affordable, which is why it is on the top of this list. If you are someone who needs a basic string trimmer to do the most work for you and you do not have a lot of specific demands, this is an accessible one.
Key Features
4-amp motor
Smaller handle and shaft
Retractable metal flower guard
Weight of the trimmer is 5.2 pounds
Pollution free, no emissions
Corded trimmer
Hand held trimmer
One of the most affordable
4 year warranty by GreenWorks
065 inch dual line, automatic feed head
Adjustable telescoping shaft
Cord lock feature to avoid accidental removal of cord from the socket
Product Review and Description
The GreenWorks 21212 is a corded electric trimmer with a rotating line on an adjustable head. This head is very flexible which helps get into different edges while edging your garden. The shaft can rotate 180 degrees which makes this possible. It is one of the bestselling models on the market because of its affordable price and versatility. The motor is not the most powerful having 4 amp rating, but it is powerful enough to give a clean-cut and not vibrate too much.
It has an automated line advancement mechanism, which means that it automatically feeds 0.25 inch of the line in whenever you start the machine so that you do not have to do it yourself. This also has a telescopic shaft which helps in adjusting the angle at which you use the trimmer, making it very customizable to your needs and size. Additionally, this comes with a second handle which helps in making the job easier and reducing back pain due to the pressure from using the trimmer for a long time. The cutting path is 13 inches, which can be a good or a bad thing depending upon the user.
Affordable, one of the cheapest options in the market
Easy to use, adjustable and customizable
No emissions, non-polluting
Can be used for long periods of time
Versatile can be used for various jobs
Highly efficient
Corded, makes the area you can cover restricted
Smaller in size, people over 6 feet will have trouble working with it
You use up spools of lines very fast
2. DEWALT DCST920P1 Weed Wacker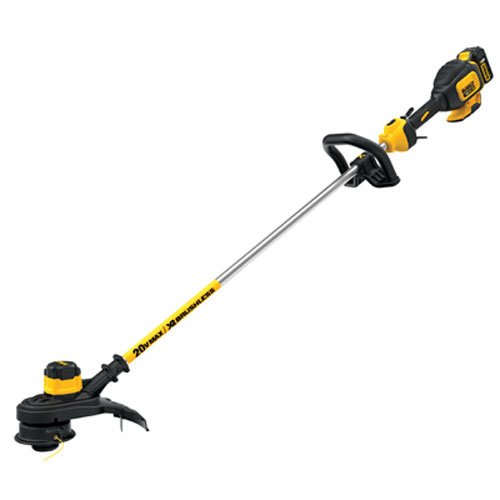 The Dewalt DCST920P1 is a battery powered electrical weed whacker or string trimmer, which has a brushless motor for increased efficiency. It is light weight, user friendly trimmer with a bunch of features to look out for. If you are looking for a cordless trimmer with a powerful motor and the same wide line as the previous trimmer, this might be a good option.
Key Features
13 inch line length and cut path
08 inch line diameter
Brushless motor
Battery powered electrical string trimmer
Quickload Spool which helps in efficient re-spooling
Multiple speed variants, high or low speeds can be obtained
Special gear design
Ergonomically stable design for reduced strain on the body
3 year warranty
5 amp motor
Lithium Ion battery, rechargeable power source
Comes with the standard charger
Product Review and Description
The Dewalt DCST920P1 is a cordless cousin of the string trimmer mentioned earlier, with a couple extra features and designs patented by Dewalt. This gear drive design, unique to this company's motors helps in increasing and multiplying the torque created in these shafts, providing more power to the motor, helping the head cut through rougher areas and overgrowth.
The variable speed option provides two speeds, namely high and low, to help you achieve the result you want with your lawn. This also has a dual line, which means that you do not have to go over a place more than once, as it gets cut twice with 2 lines. Dewalt DCST920P1 also has the QuickLoad Spool technology, which helps you reload the spool easily without a lot of hassle. The battery is a 20V lithium ion battery, which is a part of the Dewalt Line, which can be used in other Dewalt products as well. It also is very lightweight which means that you can carry it around and use it wherever you want.
Lightweight body
Easy to start, you just need to press a button
Comfortable grip, does not give you rashes
Small guard, making it easier to see what you are cutting
Battery is not long lasting, not suitable for larger yards
Fixed head, not adjustable, makes edging the garden difficult
Not the best for heavier job, the motor is not powerful enough
3. BLACK+DECKER LSTE525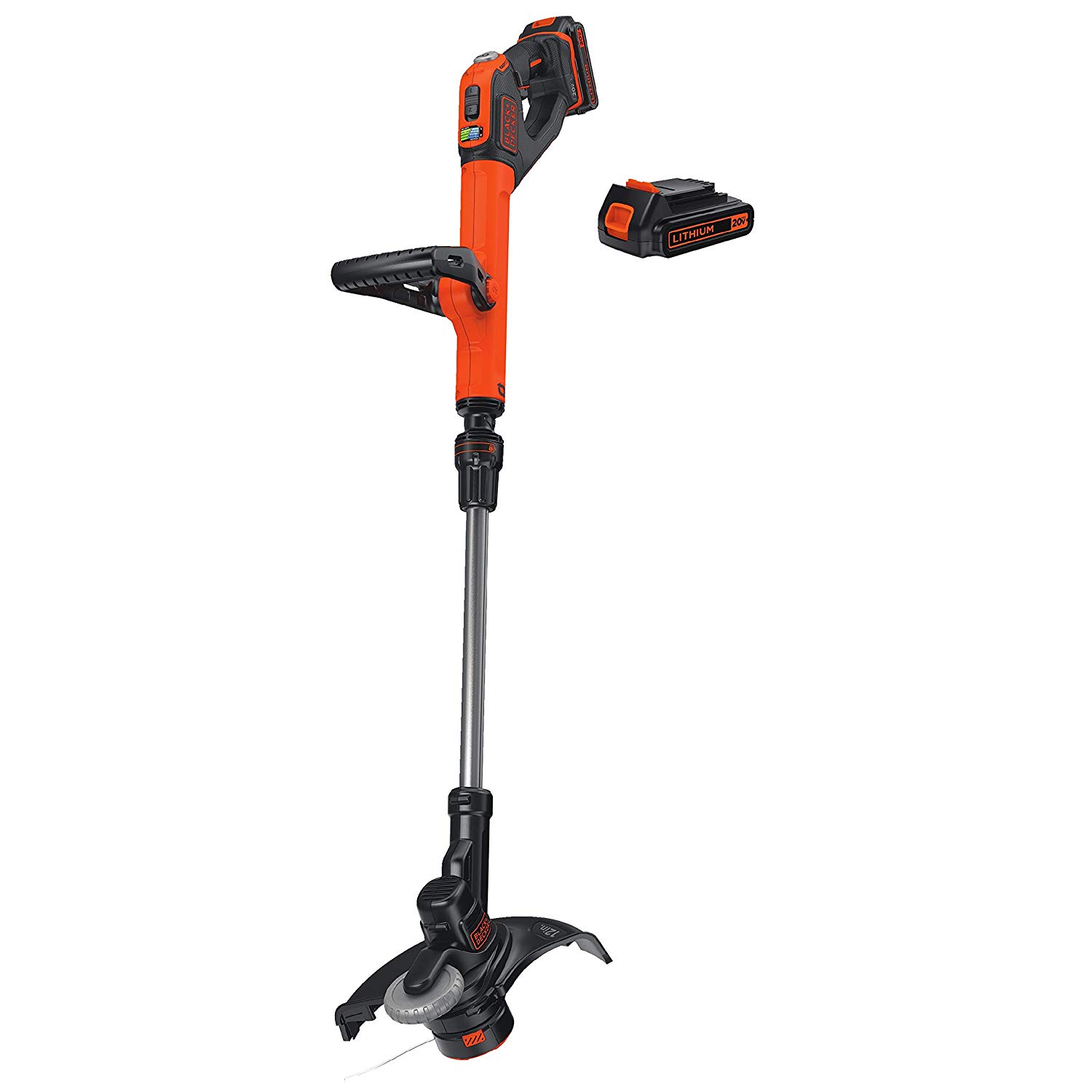 The Black+Decker LSTE525 is a double speed trimmer that is convertible. It can be used on tougher terrain with its Easyfeed String Advance technology which makes cutting smooth and easy. It also has 2 batteries for longer working time and power. This is similar to the Dewalt one mentioned earlier, with multiple attachments.
Key Features
Easyfeed technology for advancing, no bumping required.
2 rechargeable lithium ion batteries included
2 speeds to control power consumption
Can be converted from a trimmer to a wheeled edger
20V MAX system
Power Drive transmission for more torque power for cutting
Height is adjustable
Soft grip for comfortable use
20V battery voltage needed
3 pounds, lightweight machine
Product Review and Description
The Black+Decker LSTE525 is a multipurpose string trimmer which can be used for lawn cutting as well as edging using the attachments that it comes with. It is a cordless battery powered trimmer with rechargeable batteries. This is highly versatile because of which it is perfect for small yard work. It has Power Drive transmission which increases the torque in the motor, making it much more powerful ad energy efficient. This also has the Advance line technology which helps immensely in starting up the motor without bumping. You just need to press a button and no other effort is required.
The two speeds available help you choose where you need less power and where to use higher power. It comes with 2 attachments, one for trimming and one for edging the lawn. The kit also includes a charger, extra spool, a guard and 2 lithium batteries. The company also offers a 2 year limited warranty period for Black+Decker LSTE525.
Lightweight, easy to move around and use
Easy on your back, designed for comfort
One hour battery life after a full charge
Variable speeds for softer and tougher weeds
If you live somewhere with electricity issues, this is a problem due to the 1 hour run time.
Not preferred for extra thick foliage. More suitable for residential lawns.
4. EGO Power+ ST1500-S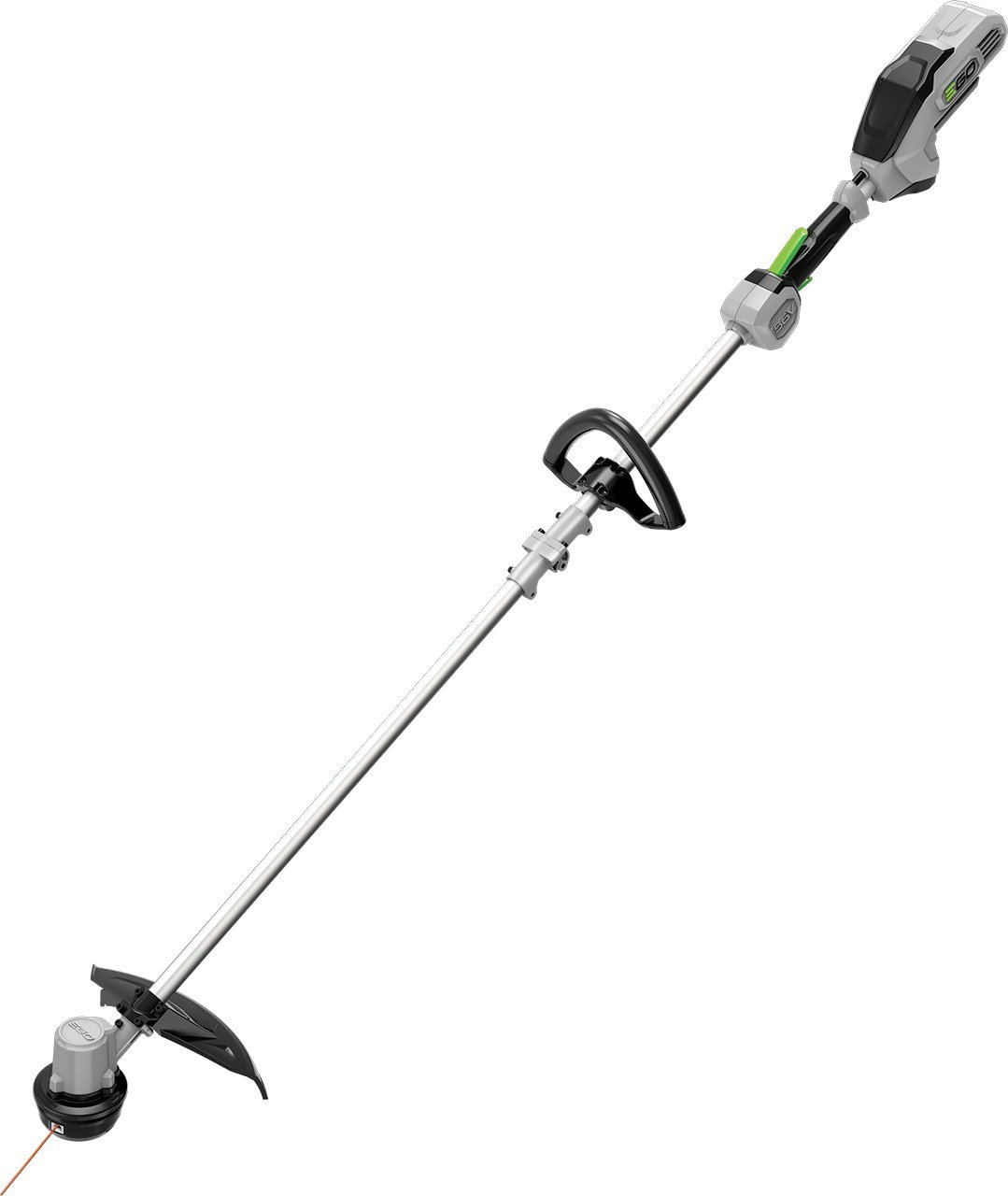 The EGO Power+ ST1500-S is a very powerful cordless string trimmer. It has used the 56 volt lithium ion battery for the first time and increased the power and run time of the motor and machine. The line is also longer along with the head size, which covers a larger area. It has a very powerful brushless motor which delivers incredible efficiency without noise and pollution.
Key Features
56V Lithium Ion Battery
Charger included in the kit
Weather resistant protective structure
Bump Feed Head included
Extendable Shaft which can go up to 59 inches
Brushless motor with very high efficiency
15 inch line length cutting swath
5 year warranty for the tools
3 year warranty for the battery available in the kits
7 pounds weight
Handle padding for more comfort
Product Review and Description
The EGO Power+ ST1500-S is a great option for people who have medium sized yards and need their trimmers to work for a longer amount of time as well as have more power. This trimmer has a 56V battery whichmakes sure that your trimmer works for a very long time for you to get your work done easily. The structure and design of the trimmer is made to protect it from wear and tear. It has a 0.095 inch diameter dual twisted line which has significantly more strength than that of other trimmers. This line does not get eaten up that fast and lasts much longer than standard lines.
The EGO Power+ ST1500-S has no spinning shafts inside, which reduces the power consumption as well as the number of parts needed to be taken care of. The padding is comfortable and easy to hold with a strong grip.
Long lasting line, no need to keep replacing it
Rechargeable
Larger swath, covers more area and cuts faster
Easy to use and move around
Can trim hedges and harder weeds as well
No on/off button, have to pull the trigger
Batteries are expensive if you run out of the ones provided
Assembly is required
5. WORX WG160

The WORX WG160 is a 3 in one string trimmer which can do trimming, edging and mowing. It changes from a trimmer to in-line edger immediately and you do not need any tools. This trimmer also has dual batteries which makes sure the machine runs for a long time. It has an ergonomic design which makes sure that you are not hurting your back. This battery powered powerful mini-mower is where it's at if you have a smaller yard and you want something sophisticated and extremely versatile.
Key Features
Dual 20V Max Lithium batteries, very lightweight
12 inch line length
065 line diameter
Single line trimmer
3 in 1 function with edging, trimming and mowing
Lifetime supply of free spools
Can share batteries with your other WORX tools, saves money
3 hour charging time
Weight of the machine is 5.7 pounds
3 years warranty on the tools
Dual positioned in-line wheels for the 3 functions of mowing, trimming and edging
Head can tilt to 90 degrees
Adjustable spacer guard
Product Review and Description
The WORX WG160 is one of the highest rated models on the market by its users. It is well known for its immense versatility and ease of use. It starts without a problem and using it requires no tools. You can adjust the height of the shaft and you can also tilt the head in any direction you want to get through to difficult areas and crevices. The dual batteries have been installed to increase the battery life time. The batteries are rechargeable and need a charging time of 3 hours.
The 12 inch line swath is very standard for a domestic string trimmer. This is suited more for softer lawns because of the type and quality of string that is used in the line. The WORX WG160 has an adjustable spacer guars, which makes sure that you can see where you are going and what you are cutting.
Lightweight, easy to use
The head is adjustable, you can get around a lot of things
Adjustable handle makes it easier to comfortably use it
Does not hurt the back
Thin line and line feeder might develop wear easily
Maximum 20 minute battery life, not as long lasting as claims
6. Remington RM2510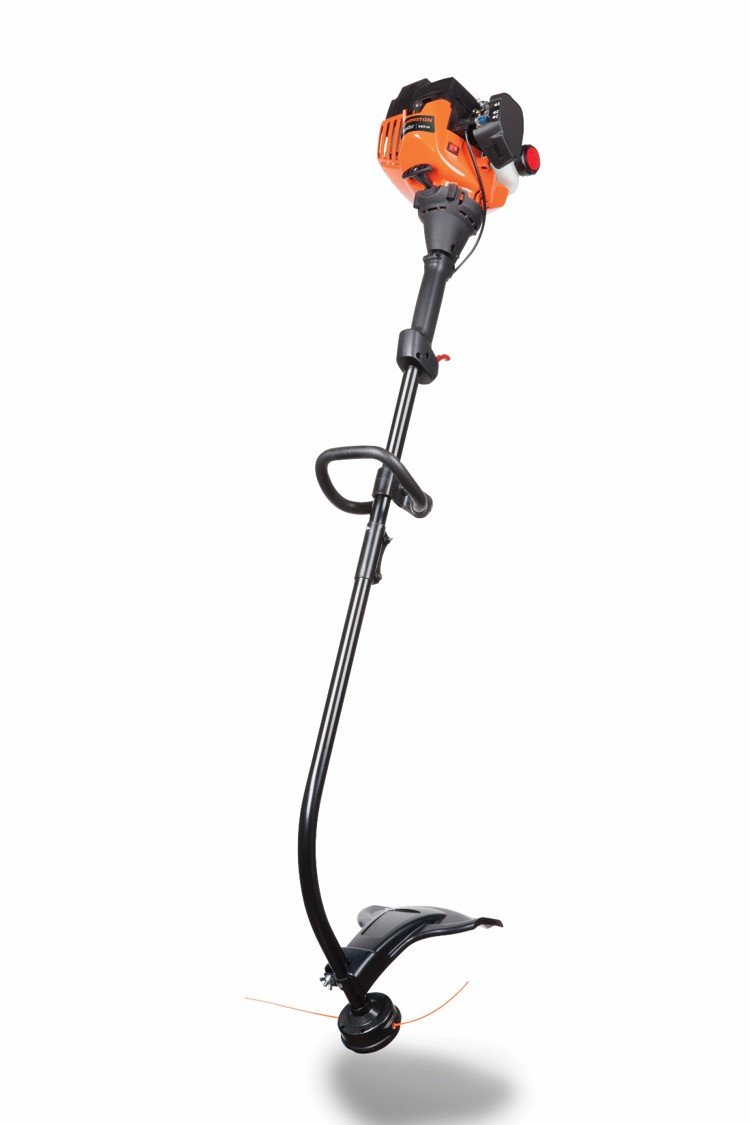 If you do not mind a gas string trimmer, the Remington RM2510 is one you can get for smaller jobs and small household yards. Gas trimmers are much lesser of a hassle than electrical ones because of the charging problem or the cord attached to a socket. The SI Engines on which this operates is very powerful, much more than the electric motors. It is also more affordable and lasts for a long time.
Key Features
Quick start technology – makes starting it very easier
Balanced curved shaft: comfortable cutting and access
Lightweight design and construction
Dual line bump head
095 line diameter for longevity
Greater control with the thick line
16 inch cutting swath which covers a lot of area
Easy switching of lines
2 year warranty
6 pounds weight
Bump feed type
Product Review and Description
With the Remington RM2510, you get a lot of features. You do not have to worry about a cord or charging or the battery life. The user gets to move the machine around everywhere without any disturbances. You will also need solid fuel for this engine, and you need to mix oil and gas in the 40:1 ratio to fuel this 2 cycle SI engine. This is quite inexpensive, which is why it is not the highest of quality, but it is a good one if you need something urgently and you do not have the budget for a 100 dollar electrical one.
Assembling this Remington RM2510 trimmer is very easy, you get all the parts in the kit with instructions and you can set it up really fast. There have been some complaints about it not being able to remove feed itself and getting entangled, but it still works great in smaller yards with grass and less woody shrubs. You have bump feed for advancing the line and starting is easy as well. The curved shaft is easier to move around than the straight shaft.
No charging
Solid fuel engine: very powerful
Curved shaft: easy maneuvering
Easy assembly
Debris can get into the eye, wear eye protection
Might need constant cleaning
Carbon footprint
7. GreenWorks 21142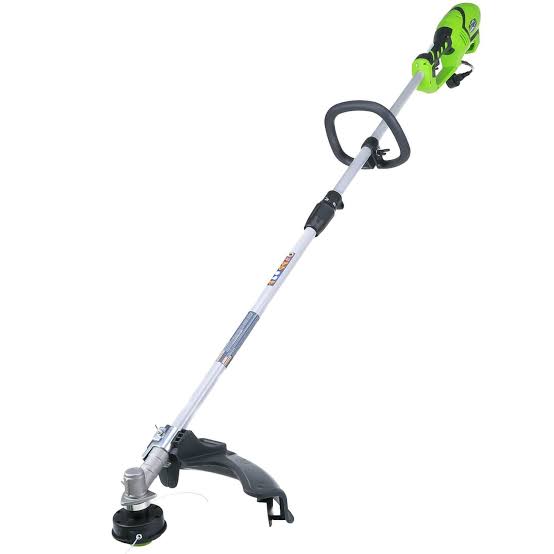 Another model from GreenWorks, the GreenWorks 21142 is a more powerful and updated version of the Greenworks 21212. It has a dual line cutter for a cleaner and closer cut along with a more powerful motor and long lasting battery. If you like GreenWorks and their tools, and you are looking for a stronger string trimmer with the same versatility of the 21212, the GreenWorks 21142 model should be something you look into.
Key Features
Electrical corded string trimmer
18 inch cutting line length and line swath
10 Amp motor
Straight Shaft
080 diameter line for durability
Has dual bump line type of feed mechanism
Electric start and cord lock
Replaceable spool, model number: 29622
Weight: 10 pounds
Zero carbon footprint
4 year warranty
Adjustable shaft
Non-adjustable head
Product Review and Description
The GreenWorks 21142 is a great option if you have a larger yard in your house. It has a very strong 10 amp motor which is why it is one of the Best string trimmers in our opinion. The price is unbeatable as well; GreenWorks offers string trimmers at a very good price for someone on a budget who needs a lot of work to be done. This one has a dual line which helps in easy bump feeding and a clean cut without tangling. Even edging is easy with this one. Even though the head is not movable, it is pretty easy to use. The shaft is very long and also adjustable, so you can change it according to your height and comfort.
Because it is corded, it is a little harder to move around as you don't have that much freedom, but having the cord lock helps as well as having and extension cord makes the job much easier, plus you do not have to worry about the battery running out. Being an electrical trimmer, it does not burn any fuel and is completely safe for the environment. It has no carbon footprint at all. It is a little heavier than the smaller ones available in the market and is a little harder to move around because of the weight.
Adjustable height
Long warranty period
No environmental impact
Great efficiency and quality
Heavier than usual
Spool needs to be replaced regularly
Corded, total free movement is not possible
8. Husqvarna HU625HWT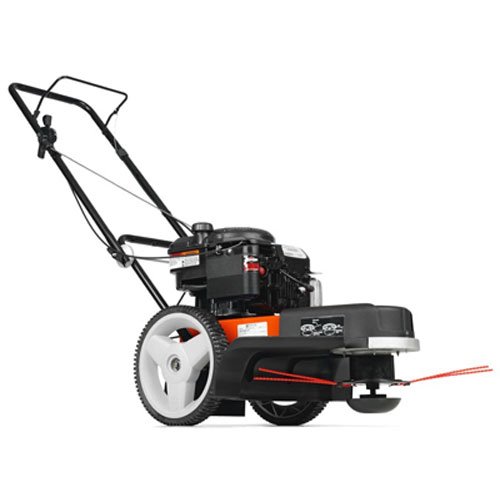 For lawns that cannot be trimmed easily with a hand held trimmer, the Husqvarna HU625HWT is one of the most popular options. It is a very powerful walk behind trimmer with a 190cc engine and high wheels. This has a very large trim swath, making trimming much easier and faster for larger farms. It is one of the best for people who need a fuel walk behind trimmer and is very highly rated by customers.
Key Features
190 cc Briggs and Stratton powerful engine
22 inch cutting swath line length
155 trimmer line
2 trimmer lines for clean cutting
Debris shield to protect the user from the cut up residue
Weight: 79 pounds
Changeable cutting head height from 1.6 to 3 inches
25 gallon fuel tank capacity
4 cycle engine
Recoil start
2 years warranty
Product Review and Description
The Husqvarna HU625HWT is one of the best string trimmers for larger lawns out there. It is almost perfect, except the fact that you need to invest in it a little more than you would with hand held trimmers. This has very large surface area coverage owing to the 22 inch head diameter which makes trimming very fast. It also has a very powerful 190 cc 4 stroke engine which makes sure that you do not run out of power. You can cut very hard foliage and overgrowth with this machine. Being a machine that you push around like a cart, it is a little heavy, because of the powerful engine and shaft involved in it.
You can adjust the height of the cutting head from 1.6 inches to 3 inches to customize at what height you want your grass to be. This is a unique option that this trimmer offers. The 12 inch smooth wheels make it really easy for it to move around and use. You are not strained while using the Husqvarna HU625HWT at all.
No charging needed, no battery replacement needed
Smooth usage
Very long lasting, will last you for years with proper oiling and maintenance
Very fast
Has carbon footprint as it needs oil or gas to be used
Heavier, cannot store it anywhere, not compact
On the more expensive side
9. Earthwise ST00115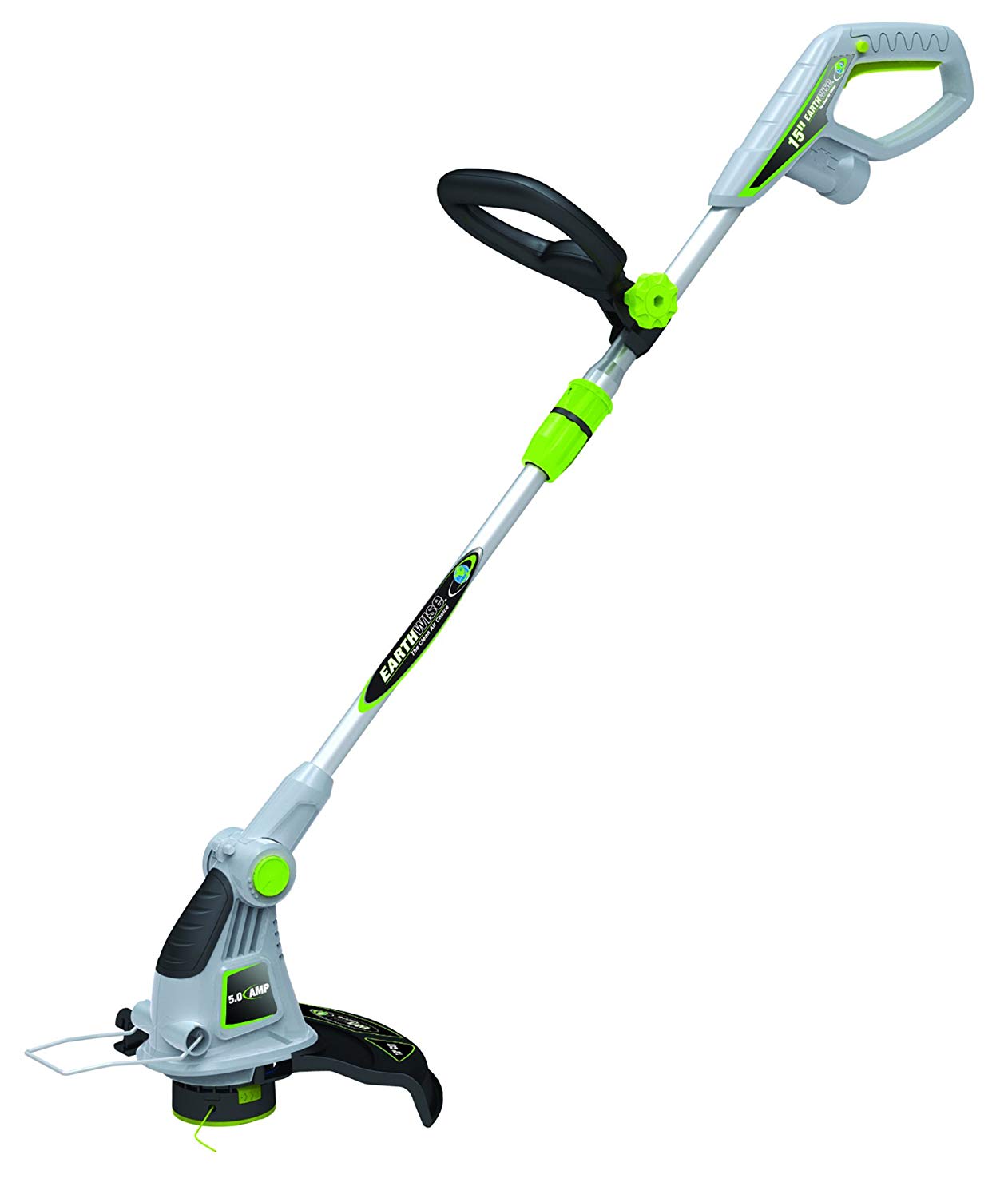 The Earthwise ST00115 is an electrical battery charged string trimmer with a long lasting battery. It is hand held and cordless and is one of the most user friendly ones on the market. It has the unique feature of having an adjustable line swath of 13 to 15 inches, which means that you can change the area you cover by using this feature. If you are looking for a reliable battery powered trimmer, you might want to look into the Earthwise ST00115.
Key Features
3 position cutting heads
13 to 15 inch adjustable line swath
Variable speeds
Auto dual line feed type
065 standard line diameter
Adjustable length of shaft
Has extra auxiliary handle for more support
Comfortable grip
5 amp powerful motor
Steel edge guard which can be flipped down
7500 rpm
Can switch between trimming and edging
Weight: 8.25 pounds
Product Review and Description
The Earthwise ST00115 is a great option again for residential lawns for which you do not need a lot of power and strength. It is highly efficient and the battery lasts for about an hour if you use it heavily. You have a 5 amp motor which works smoothly, efficiently and quietly to give your lawn the most sophisticated trim. The handle can be shifted, rotated and adjusted to fit your needs. You can change up the angle of the telescopic shaft as well.
There are 3 positions that you can have your line swath on, depending upon the size of the area you are trimming. You can also edge your garden perfectly using this trimmer. It is a clean product with no carbon footprint. This also has the dual line feed which helps in efficient feeding cutting of the grass along with the easy start technology. The string trimmer weighs about 8.25 pounds which makes it very easy to move around and store.
Lightweight
Efficient
Cordless
Clean, no carbon emission
Adjustable attachments and shaft
Battery life is only 1 hour
Need to change the spool a lot as the line is thin
10. Craftsman WS205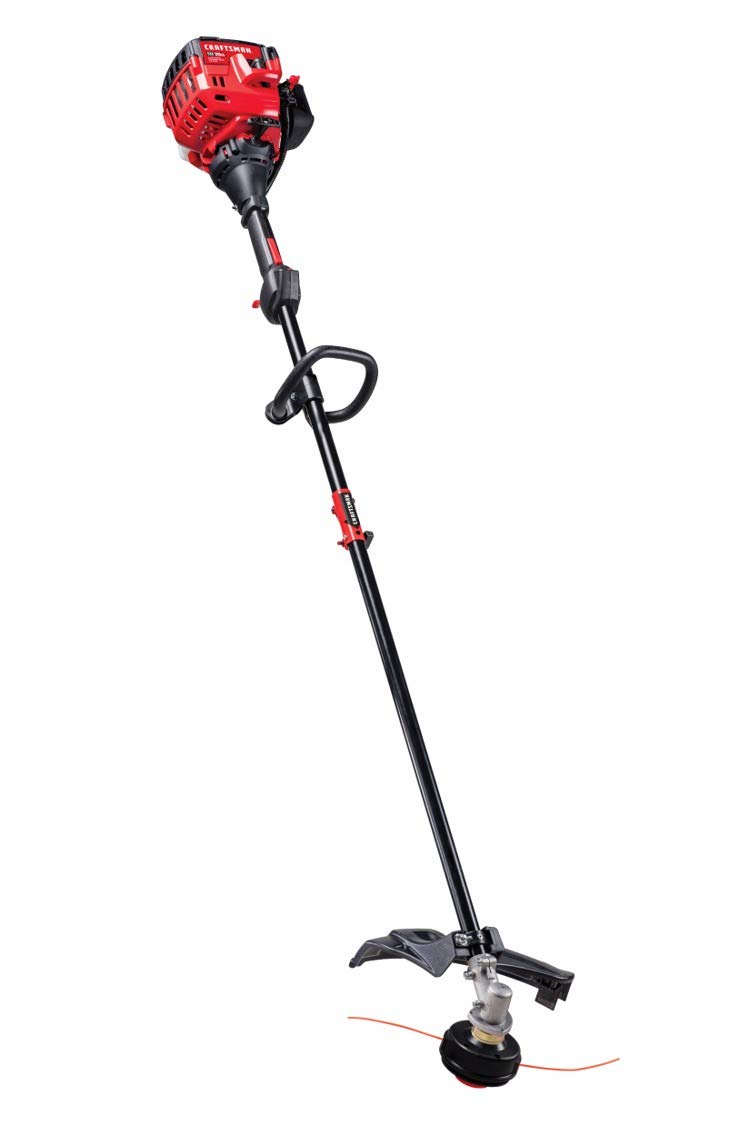 The Craftsman WS205 is one of the best fuel powered string trimmers in the market. With a 17 inch line swath and 25cc engine, this handheld weed whacker has a 2 cycle petrol engine with a lot of power for fast and efficient trimming. It has the Easy Start technology which works towards starting the engine as efficiently and easily as it can. If you are on the hunt for the best hand-held gas trimmer, this might be theone.
Key Features
Bump feed line
25 cc engine
Curved shaft, balanced for easy access and usage
Prime, choke, pull to start easily: Easy Start Technology
Handle is adjustable
Can attach other Craftsman tools to it
Less operation time
Weight: 13 pounds
2 year warranty
Petrol or gasoline powered
Product Review and Description
The Craftsman WS205 is a great option for you if you have a larger lawn that an electric string trimmer cannot handle and you need something more powerful. This one can cut through rougher areas and bushes and give a spectacular look to your lawn. The powerful 25 cc 2 stroke engine works to rotate the head which cuts the grass at a perfectly even height. The structure and design are made to help the user and reduce strain on his or her back. The curved shaft makes it easier to see where you are cutting, given that it is a hand-held trimmer.
The head has a 17 inch line which makes cutting so much faster, and the thick dual 0.095 inch line reduces how much you have to replace the spool. This machine, however, produces emission which is not the best for the environment. Getting a gas powered trimmer always comes with that con, even though it is more efficient and hassle free than an electric one.
Powerful and fast
Adjustable handle and head
Long lasting line spool
Easy start technology, just prime, choke and pull
Slightly heavier
Carbon footprint
Factors to Consider Buying of Best String Trimmers:
While buying a string trimmer, there are many things that you do need to keep in mind. There are many things which make one better from the other, and we are here to help you find the right one based on your needs. Look through the following points to see what you really require:
There are 3 types of string trimmers which you should know about: Electric string trimmers, gas powered string trimmers and walk-behind string trimmers. The next segment contains details about each of these.
The size of your yard is also very important in your selection of a string trimmer.
If you have a yard larger than 1 acre, you should get a cordless gas trimmer for cutting to be done in sufficient time and for the trimmer to work for a longer time.
For lawns having a size ranging between half an acre to an acre can go with cordless electric string trimmers with 40 to 80 volt wattage, but having a gas trimmer isn't bad either.
For smaller yards having a size less than half an acre, using a corded string trimmer could be a good idea as well if you have an electrical port nearby. You can also use a 20V to 40V cordless trimmer for the easiest and fastest trim job.
In case your terrain is really tough, so much that the string trimmers do not really work anymore, you can look into Brush Cutters, which are like the walk-behind string trimmers. They use rotating saw blades instead of the line cutter. This helps cut woodier shrubs and weeds in the area that you need to trim.