A string trimmer is known by a variety of names across the world, the most popular ones being 'line trimmer', 'weed eater' and 'strimmer'. It is a power tool used in gardens and farms for weeding or cutting grass or unnecessary smaller plants that have overgrown around objects. You can remove plants on an irregular terrain as well. A string trimmer doesn't employ a blade to cut plants and grass. It works using a monofilament line which is quite flexible as well. 
See Also:
The tool in itself has a long handle attached with a cutting tip which has the monofilament line. This is sharp enough to cut most types of grass. The flexibility of the monofilament line makes it easy for you to navigate around irregular areas and cut wherever you want. The string trimmer works using a rotating cutting head containing the monofilament line.
Some of them can be adjusted; you can change up the angle of the rotating head to fit the area that you are trimming. You also have the option of fuel string trimmers which use an IC Engine in the machine which uses either gasoline or diesel as the fuel, or you can buy an electrical one which works with obviously, an electric motor.
This Best String Trimmers Review is about the best string trimmers on the market, which have the best specifications and efficiency along with the best value for money.
What are the different types of String Trimmers?
There are 3 types of string trimmers available in the market. The details on all these are given below:
1. Electric (Battery-Powered) String Trimmers
These are simpler and easier to start.

They run on electric motors which are easier to start and switch off as well.

These have a noticeably small sound level, they create much less noise than the gas one, which should be kept in mind.

They are available in the cordless and corded variants.

The cordless ones are understandably easier to move around because there is no wire attached to it. They operate on 20 to 40 or 80 volt batteries, based on the power of the motor that you are using. As stated earlier, the power rating of the string trimmer that you choose should depend on how large your farm is and how long you are going to be using your string trimmer. These batteries can last from 30 minutes to a number of hours.

The corded string trimmers that you can get in the market are much lighter than the cordless ones you get. This is because of the lack of battery in the corded ones. You also do not have to charge it and it does not stop during work as it has a continuous power supply. It would be more difficult to work with this as corded string trimmers have a little flexibility with the amount of area they can cover. You need extension cords to expand the area that they can cover, which becomes a hassle at times.
2. Gas String Trimmers
Gas String trimmers are used to cover more areas and to cut more growth than just small weeds and grass. They are more powerful than electrical trimmers.

They are a little tougher to start up, as they use a pull-start to be able to crank the motor. You can also purchase a separate attachment which basically starts the machine for you at the push of a button and you do not have to use this cord.

They run for a longer time than electrical string trimmers as well, as they do not need to be charged and they run on petrol or diesel.

You do need to keep the motor properly fueled and maintained by lubrication and proper maintenance methods.
3. Walk-Behind String Trimmers
These have wheels and a bar that you can use to drive it around like a cart, which is easier to maneuver than hand-held string trimmers.

They also have wider area coverage as the line that cuts is bigger than that of hand-held trimmers.

These are mostly gas powered and are easier to start because of its structure although it does have the pull start mechanism with the recoil spring.

It is used for tougher bushes and harder terrain, which is why the cutting line becomes worn out easily. You have to replace the lines regularly.
How does a String Trimmer work?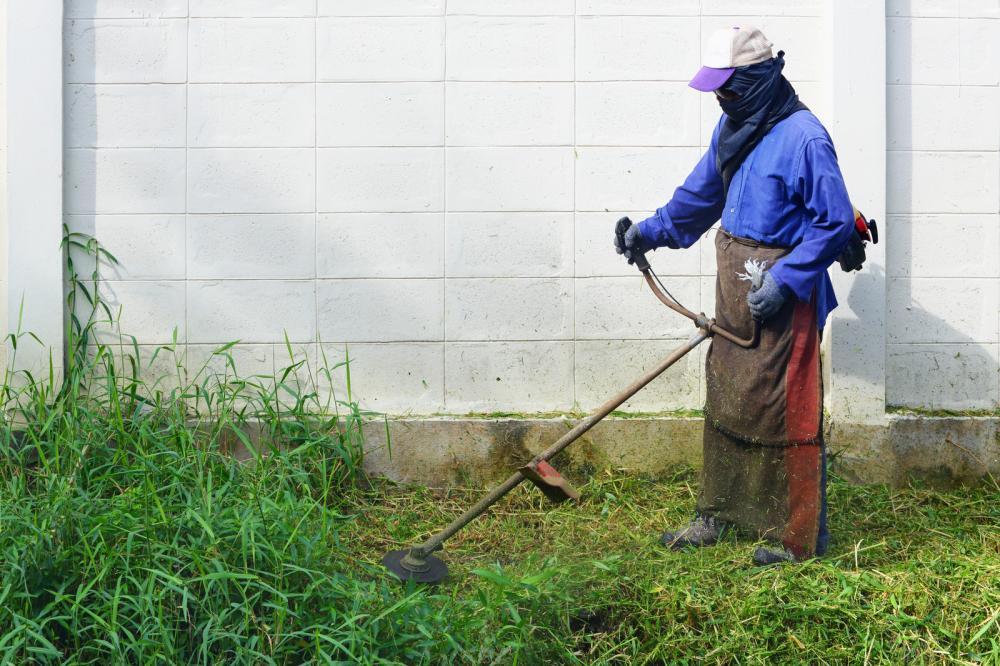 It is a machine that is scientifically designed to cut through plants and grass. It can be powered in three ways – electricity, battery and gas. The components that make up a trimmer are motor, battery (if powered by electricity), shaft (which connects the motor to the spinning rotor) and cutting head (the monofilament line that cuts the grass).
These are also known as weed eaters, weed whip, weed whacker or line trimmers. It is most useful when it comes to cutting objects around areas that pose a challenge for regular mowers. Out of control weeds, grass and wild plants can be a task to keep up with, string trimmers are perfect for the hard to reach places. It is flexible, versatile and maneuverable, perfect for landscaping the front yard, lawns, gardens and parks of any size.
It is best for tackling patches of overgrowth. Most important factor that works in favor is the light and portable designs, value for money and overall sturdiness. They're the best possible machine to for neat and well-manicured yards. There are a wide variety of types that are designed for particular purpose, capabilities and features. Choosing the right way can be tricky so keep reading to understand which one is best suited to your requirements. 
The Best String Trimmers (Weed Wacker) Reviews
1. Greenworks 13-Inch 4 Amp Electric Corded String Trimmer 21212
The GreenWorks 21212 is a corded electric trimmer with a rotating line on an adjustable head. This head is very flexible which helps get into different edges while edging your garden. The shaft can rotate 180 degrees which makes this possible. It is one of the bestselling models on the market because of its affordable price and versatility. The motor is not the most powerful having 4 amp rating, but it is powerful enough to give a clean-cut and not vibrate too much.
It has an automated line advancement mechanism, which means that it automatically feeds 0.25 inch of the line in whenever you start the machine so that you do not have to do it yourself. This also has a telescopic shaft which helps in adjusting the angle at which you use the trimmer, making it very customizable to your needs and size. Additionally, this comes with a second handle which helps in making the job easier and reducing back pain due to the pressure from using the trimmer for a long time. The cutting path is 13 inches, which can be a good or a bad thing depending upon the user.
The GreenWorks 21212 is a more basic but versatile String trimmer which is also very affordable, which is why it is on the top of this list. If you are someone who needs a basic string trimmer to do the most work for you and you do not have a lot of specific demands, this is an accessible one.
2. DEWALT DCST920P1 Weed Wacker
The Dewalt DCST920P1 is a cordless cousin of the string trimmer mentioned earlier, with a couple extra features and designs patented by Dewalt. This gear drive design, unique to this company's motors helps in increasing and multiplying the torque created in these shafts, providing more power to the motor, helping the head cut through rougher areas and overgrowth.
The variable speed option provides two speeds, namely high and low, to help you achieve the result you want with your lawn. This also has a dual line, which means that you do not have to go over a place more than once, as it gets cut twice with 2 lines. Dewalt DCST920P1 also has the QuickLoad Spool technology, which helps you reload the spool easily without a lot of hassle. The battery is a 20V lithium ion battery, which is a part of the Dewalt Line, which can be used in other Dewalt products as well. It also is very lightweight which means that you can carry it around and use it wherever you want.
The Dewalt DCST920P1 is a battery powered electrical weed whacker or string trimmer, which has a brushless motor for increased efficiency. It is light weight, user friendly trimmer with a bunch of features to look out for. If you are looking for a cordless trimmer with a powerful motor and the same wide line as the previous trimmer, this might be a good option.
3. BLACK+DECKER LST522 20V MAX Lithium 2-Speed String Trimmer
The Black+Decker LST522 is a multipurpose string trimmer which can be used for lawn cutting as well as edging using the attachments that it comes with. It is a cordless battery powered trimmer with rechargeable batteries. This is highly versatile because of which it is perfect for small yard work. It has Power Drive transmission which increases the torque in the motor, making it much more powerful ad energy efficient. This also has the Advance line technology which helps immensely in starting up the motor without bumping. You just need to press a button and no other effort is required.
The two speeds available help you choose where you need less power and where to use higher power. It comes with 2 attachments, one for trimming and one for edging the lawn. The kit also includes a charger, extra spool, a guard and 2 lithium batteries. The company also offers a 2 year limited warranty period for Black+Decker LST522.
 If you are looking for a lawnmower that is easy to use, easy to maintain and easy to store, then this is the perfect solution for you. It is also the perfect residential lawnmower for those who want to choose an eco-friendly model.
4. EGO Power+ ST1500-S 15-Inch 56-Volt Lithium-Ion Cordless Brushless String Trimmer
The EGO Power+ ST1500-S is a great option for people who have medium sized yards and need their trimmers to work for a longer amount of time as well as have more power. This trimmer has a 56V battery whichmakes sure that your trimmer works for a very long time for you to get your work done easily. The structure and design of the trimmer is made to protect it from wear and tear. It has a 0.095 inch diameter dual twisted line which has significantly more strength than that of other trimmers. This line does not get eaten up that fast and lasts much longer than standard lines.
The EGO Power+ ST1500-S has no spinning shafts inside, which reduces the power consumption as well as the number of parts needed to be taken care of. The padding is comfortable and easy to hold with a strong grip.
The EGO Power+ ST1500-S is a very powerful cordless string trimmer. It has used the 56 volt lithium ion battery for the first time and increased the power and run time of the motor and machine. The line is also longer along with the head size, which covers a larger area. It has a very powerful brushless motor which delivers incredible efficiency without noise and pollution.
5. Greenworks 18inch PowerShare Cordless String
The Greenworks trimmer is among the finest string trimmers. It is a very powerful & durable string trimmer. This corded string trimmer incorporates a 10-amp engine which is quite impressive. It offers a long duct or shaft. 
The 18-inches cutting path with double line head is also a great feature of this trimmer as it speeds up the whole process. The trimmer has a cushioned grip to have extra control over the trimmer while trimming.
For yards/lawns with fully open areas, this is an excellent trimmer. It helps you weed large territory in less time. The Greenworks trimmer is a solid and heavy trimmer that weighs below 10 pounds. The shaft of this trimmer is long and adjustable for convenient edging. 
This Greenworks trimmer is corded so you do not need to stress overcharging the battery again and again. The dimensions of the product are 12.99 inches x 31.5 inches x 5.12 inches.The broad 0.08-inches line works on a knob feed structure. This arrangement quietly feed line toward the front or head whenever you slightly bump the trimmer's front on the terrain or just press the switch by your hand. 
All Greenworks items, including this corded trimmer, are harmless for the climate or environment. It possesses a carbon impression of zero & does not produce any carbon discharges in the air. The Greenwork corded trimmer comes with a 3-year warranty which makes sure the product quality.  This battery powered powerful mini-mower is where it's at if you have a smaller yard and you want something sophisticated and extremely versatile.
6. WORX WG170 GT  20V Max String Trimmer / Edger, 12-Inch
The Worx grass trimmer is a cordless and lithium battery controlled trimmer. This trimmer can also be called a mini-mower. It offers new degrees of intensity, function, and accuracy. The 20 volts power lithium battery provides longer running time & more force. 
The cutting diameter of 12-inches implies more grass trimming in very less time. Convert into an edger in a short period, with double situated in-line wheels which makes edging an easy task. The Command FeedTM innovation of instantly line feeding structure keeps you moving towards your yard ventures. 
You can easily make changes in the height according to the telescopic duct or shaft utilizing the speedy discharge trigger switch. You can turn the grass trimmer front with a simple force. The physical dimensions of the product or trimmer are 55.25 inches x 5.47 inches x 7.48 inches. 
The powered Max lithium battery implies more running time, longer battery limit, no self-release, less weight, quick charging time, more force, and no slowly loss of intensity. You can recharge the battery inside 3 hours & it will be ready whenever you require it.
From intensity to various features, this 20-volt Worx trimmer includes no bumping or knocking to broaden the line. The space guard which is adjustable ensures vegetation protection. Also, this space guard works like an edger control. 
Additionally, the front handle encompasses seven secured adjustments for extended solace while managing, trimming, cutting, or edging. It weighs under 6 lbs. This trimmer/edger helps you in making your lawn or yard give a professional look.
At a competitive price with multiple features. This machine is one of the top ones in the market and has been one of the leading brands. Sound quality in terms of build and performance, this string trimmer is conducive for daily use. Lightweight and portable, it is perfectly capable of handling most landscaping requirements. The single battery option may deter you, however the power management system is highly capable and in short allows for greater use versus double battery-powered machines.  

7. WORX WG163 GT 3.0 20V PowerShare 12″ Cordless String Trimmer & Edger, 12in
One of the best cordless string trimmers in the market, the WORX WG163 GT has been designed for ease of use, fast and efficient performance, solid power and a lengthy run time compared to other cordless models in the market today. It is capable of handling any sort of grass condition and because it is cordless, it is a hassle-free experience. The cutting diameter is 12 inches which is perfect for cutting in a wide path but also to trim in tight areas.

The ergonomic design has a two in one feature that allows the user to switch from a trimmer to an in-line edger just by flipping the head and locking it into place. This is possible without the use of any tools. The Command system is innovative and allows for an instant line feeding and prevents bumping of the tool. The shaft is telescopic which means adjusting the height is a piece of cake. The space guards provides dual functions – it protects plants and flowers, and acts as a guide for the edger. 

If you're looking for a lightweight, fast and efficient for a small to a medium-sized yard, then this is the perfect buy. The machine is versatile, portable (cordless) and easy to store. A second battery included means the runtime can be doubled and allows you to use one and charge one at the same time. The build quality is excellent and the simplicity of use makes it easy for anyone. Priced well, it takes on the competition with ease without burning a hole in your wallet.

8. Husqvarna 128LD 17″ Cutting Path Detachable Gas String Trimmer
This gas-powered string trimmer has a 28cc 2-cycle engine that covers a lot of area in a short amount of time. This manufacturer is known for making some of the best lawn care products and string trimmers as well. The gas requires a mix of unleaded gas and 2-cycle oil for best results. A 2.6 oz bottle is included with the string trimmer package. It also comes with an instruction manual that shows how the mixing should be done. 
We especially love the new Tap 'N Go feature that easily releases the trimmer line. Made by keeping all the needs of the user of the gas line trimmer in mind, this is the perfect solution for those people who have a small lawn or yard and want to keep it as well maintained as possible. Reloading the new line for this trimmer is also extremely simple. It also has a feature of removing unwanted air from the carburetor for the best performance. All these tiny details have been paid a lot of attention to ensure the long life of the trimmer as well as enhancing the ease of using the trimmer for you. 
At one of the best price points possible, this string trimmer is the perfect solution for your small sized yard. Easy to use with a variety of features that will make operating this system a breeze, this gas-powered string trimmer is a must-have. 
9. Earthwise LST02010 20-Volt 10-Inch Cordless String Trimmer
With a 20-volt built in lithium-ion battery, this electric string trimmer is the eco-friendly way to make sure that your lawn is in the best shape possible. This battery is rechargeable, and the package includes a charger, so at any point you can recharge this string trimmer and it is good to go.
We love the fact that this string trimmer is cordless, so you don't have to worry about the cord running too short and not being able to reach the tricky corners of your lawn. It has an adjustable handle for the comfort of the user and a telescopic pole that can also be used to adjust the length of the pole and to ensure that the height is compatible for the user. Built with the best quality of materials, this string trimmer is made to last and is also extremely easy to use. 
For the price one pays for this cordless string trimmer, this is a great value for money product and is also a very eco-friendly option one can pick if they care for the planet. We love that no tools are required for the assembly of this string trimmer and it requires no oil and gas as well. It just needs to be charged with the charger that is included in the package and voila! Your solution to a neat and tidy lawn is ready!
10. PowerSmart String Trimmer Cordless String Trimmer 
PowerSmart is equipped with an incredible 20 Volt Li-ion battery with a capacity of 1.5Ah. It gets completely charged or energized in an hour. The trimmer offers a running time of 30 minutes with a completely charged battery. This run time is adequate for a medium-size lawn or yard.  
Programmed feed spool is the core of this managing or trimming device as it feeds the grass trimmer line. The well-built and top-notch quality trimmer line can deal with thick grass or overgrown weeds rapidly. You can utilize this trimmer for grass upkeep.
It is extremely lightweight weighing just 7.5 lb. This feature makes it very compact, & you will not be tired quickly. You can hold & move the trimmer around comfortably. It offers a wide cutting path of 10 inches. 
The exceptionally energy-effective engine of the trimmer provides no-heap 8200 RPM for speedier and cleaner cutting. The construct quality is very tough, and it also has a wide handle that gives amazing leverage. It accompanies a battery & a charger. It comes with two years of producer warranty. The double functional design gives your grass much-required care & an exceptionally proficient appearance.
For the individuals who want a cordless string grass trimmer performing like a gas-powered trimmer, then the PowerSmart string grass trimmer will fit your requirement. It is a 2-in-1 device which can be immediately switched from grass trimmer to the edger in a short time. You do not need to purchase a costly separate planting device for edging as this device can fulfill both requirements
Best String Trimmers Buying Guide 
While we understand the multiple types of String Trimmers in the market, it is equally to consider weighing in your personal needs before purchasing one. It is sensible to look at the following factors when deciding what to buy. Depending on the size of the yard, the level of landscaping and the budget factor of course.
If you like power but don't mind the noise or fumes then the gas is the option for you. Electric ones are lighter, convenient and quitter however slightly less powerful than gas ones. Gas and cordless electric give you the option for freedom of movement. If you're looking to do heavy-duty work, the electric is more or less likely to run out faster.

To install a new trimming in small gardens, a single line is suitable. If you want to cut on larger properties, a dual-feed line is better as each revolution of the blade cuts twice. 

Sizes vary from 10 inches to 18 inches. If your yard is small and compact then a compact width is just what you need to tackle the tight spaces. However if you're looking at maintaining a large property, a wider cutting width model is highly recommended for an efficient performance. 

This is an important factor since this is a machine that will be carried for a reasonable duration. The weight can range from 5lbs to 20lbs. Gas versions tend to be heavier versus electric models. Corded models tend to be light but have a limited range. Cordless Trimmer is the best option for a medium-sized yard as it is lighter than a gas version but more powerful than a corded version 

Generally there are three options : Curved, Straight and Adjustable.
Each version has its own pros and cons. A straight one gets in tight spaces, under obstacles however the downside is the control factor. The curved version is far better in that department. It allows for greater maneuverability in tight spaces. On the flip side, it is unmanageable against obstacles. There is a third version that mixed the best of both worlds – the adjustable one! This allows for the height to be adjusted so that it can change heights and allow you to get into tight spots and can also be used to adjust to varying heights of individuals if more than one person is using the machine.
Electric ones are of course less noisy. Noise cancellation headphones are a decent solution for this as long term exposure can cause hearing disability over time. The feeder of the string trimmer spins at a high rate than can be a risk for injury. Make sure you pick one that has a straight shaft which has distance between you and the weed. An emergency cut off switch is a welcome bonus.  

Choosing The Right String Trimmer For Your Needs
Firstly, there are a few distinct varieties of String Trimmers:
– Electric String Trimmers
– Gas Handheld String Trimmers
– Walk-Behind

Let's look at each of these to know what works best.

1. Electric String Trimmers
Do you want to avoid working with nauseous oil and gas? Electric is the way to go. Contrary to belief that they are underpowered, modern technology has upped the game and performance to the same level as the gas ones. Benefits will be light, easy maneuverability, quiet and low maintenance. They can be cordless which runs on battery or ones with electric cords.

2. Gas String Trimmers

This variety is the exact opposite of electricity. Looking to work on heavy trimming? Capable of mowing down dense weeds and brush, it is the top choice for professionals in landscaping. Most of these are either in 2 or 4 cycle engines and are capable of handling any kind of job.

3. Wheeled or Walk-Behind String Trimmers
Those with back problems or physical limitations in terms of strength, this String Trimmer variety is suitable for your use. These machines can tackle thick growth, uneven terrain and cover more ground. 
Best String Trimmers FAQ's
Q) How can we use a string trimmer without breaking the line?
Ensure that you avoid hard surfaces or tackling a thick patch of vegetation. Keep checking the line for wear and tear as it will be needed to be replaced regularly.
Q) Is Safety Gear required when operating a string trimmer

?
It is important to wear safety glasses as flying debris can risk injuring sensitive parts of the body like the eyes. Gloves, closed shoes and thick clothing is a must too. If you are sensitive to loud sounds, use ear protective gear.
Q) How can I replace the string in the trimmer?
Be sure to switch off the machine before any sort of maintenance work. Be sure to follow the manufacturer's instructions to clearly understand the process.
Q) How to store your String Trimmer?
Electric Trimmers can be stored easily. All they need is a wipe down. In the case of the gas-powered trimmers, there are a few steps to follow to keep it in mint condition. Gas in the tank for longer than 3 months can cause damage through the blockage. So it is the utmost importance to make sure the fuel is completely exhausted before placing it in storage. If this is not possible, empty the fuel into another airtight container. Run the machine until the residual fuel is gone.

After the above process, clean the fuel tank with a metal brush and a cloth rag. Be sure to clear out all sorts of debris. Replace the fuel filter once the tank is completely clean. 

Q) What is the life of a String Trimmer?
This depends on the usage and maintenance of the machine. Most machines when looked after well and after heavy use (1-2 times a week) can last a minimum of five to eight years. Extra precautions during the cleaning process will increase the life of the machine. 

Once you take into account all the above factors, be sure to double-check and verify with trusted sources on the machine you will purchase. It is of utmost importance to analyze the task at hand in terms of the size of the property, budget, preference of type, additional warranties and lastly the duration of use.

The world is moving towards cordless electric string trimmer and that could be something we could try moving towards as well. It is safer, lighter and better for the environment.